Symbol
Gu Emblem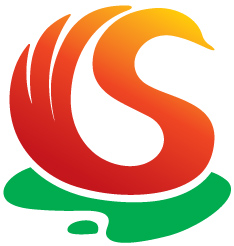 This symbol combines the first letter from SAHA, S, and the shape of a swan that lives in the Nakdong River to symbolize the beautiful nature of Saha-gu.
The island below the swan expresses the beauty of Saha-gu, such as Eulsuk Island, Mt. Seunghak, and it also adds stability to the image as a whole.
This symbol shows the infinite possibility and the progressive spirit of Saha-gu, which flies powerfully toward a bright future, just as the swan does.
The Swan Symbol - S is the first letter from SAHA and the shape of a swan. It also symbolizes the sunrise,
Eulsuk Island Symbol - It symbolizes Eulsuk Island, Mt. Seunghak and the beautiful nature of Saha-gu.
Gu Flower : Rose
Origin : Asia, Europe
Characteristics : The flower is acclaimed as the queen of all flowers. It is a vine tree with many thin thorns and exquisite flowers.
Meaning : Beauty, Love, Longing. It also indicates cooperation and passion among the district residents.
Gu Tree: Pagoda Tree
Origin : Korea, China
Characteristics : It is a deciduous tree that grows to a height of 20~25m, which blossoms with yellow-white flowers at the end of its branches.
They are usually planted around the village.
Meaning : Also called the "Goe Tree", the name "Goejeong-dong" originated from this name. The tree stands firm as it creates and commands order.
Gu Bird: Swan
Origin : East Asia, Northern Europe, Russia, etc.
Special Trait : The natural monument No. 201, both male and female is pure white and young birds.
Symbol : The swan is one of the representative migratory birds at Eulsukdo Island. Swans have strong family affections and reflect enterprising symbolism soaring all over the world.
Slogan
A slogan is the core element of the CI system representing Saha-gu, which is widely used internally and externally. The city's potential and possibilities through its rich natural environment, cultural tourism, and dwellings are expressed in the Gothic font, adding faith and trust.
Eulsukdo Island is a landform symbolizing a bigger world as a motive, the graphic elements that symbolize a powerful wave that illustrates a future vision of Saha-gu and a harmonious growth of environment and industries. The calligraphic design of the name Saha-gu appears friendly to citizens and guests, and the letters in red represent a new energetic feel and letters in blue demonstrate reliability and thrust.
Character
The swan is intended to express Korean beauty in margins and in the simplicity of lines.
The soft line represents the elegance of the swan and the bright colors express the dynamism of Saha-gu.
The four wings symbolize the typical scenery of Saha-gu - the Nakdong River estuary, Eulsukdo Island, and the silver grasses of Seunghak Mountain. It also symbolizes a strong vision of Saha-gu in the future.