Monument to the Loyalty of Jeong Un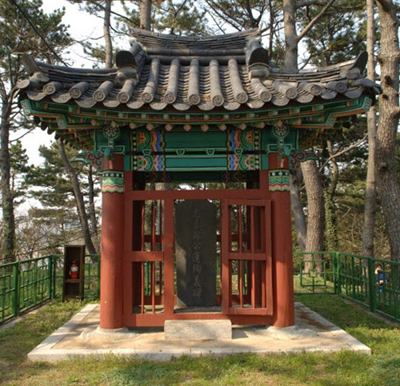 The Lord Jeong Un Monument was designated as Local Monument No. 20 on June 26, 1972 and located at Molundae, San-114 Dadae-dong. Jeong Un was born in 1543 (the 38th year of the reign of Jungjong), as the son of Eungjeong, who was an official at Hunryeonwon (military drill center). His family origin is Hadong and his penname is Changjin.
Yoengam is his hometown. He passed the Mugwa, military service examination, and served as ruler of Geosando, Ungcheon and Jeju. But he was dismissed from office due to a conflict with Moksa, the administrator of Mok.
In 1592 (the 25th year of the reign of King Seonjo) Jeong Un was the Left Jeolla Naval Commander, Nokdomanho.
On September 1, 1592 (by the lunar calendar) when Admiral Yi Sun-sin destroyed about 100 of 400 Japanese ships in the Busanpo Sea Battle, Jeong Un, then Nokdomanho, died while leading the army as the right naval leader under Admiral Yi Sun-sin.
When Jeong Hyuk, the 8th generation grandson of Admiral Jeong Un became the Dadae Military Commander in 1789 (the 13th year of the reign of King Jeongjo), he built this monument within his jurisdiction of Molundae in honor of Lord Jeong Un. The Monument was dedicated by the Yijo Panseo Official (The Minister of Home Affairs) Min Jong-hyeon and written by the Training Commander Seo Yoo-dae. The title "Monument for the loyal death of Lord Jeong Un" is engraved on the front of the monument, and the story of his loyal death is described in detail over 18 lines on the back.
When he encountered the Japanese army under Molundae, as the leading commander of naval forces, he found out that the name of the pavilion was "Un" like his name, and he decided to dedicate his life to the battle and faced an honorable death. However, Chungjanggong Record (Jeong-un's posthumous name was Chungjang) and the works of Admiral Yi Sun-sin records that Jeong-un died in defense of the country in the Battle of Busan in 1592.
The monument stood there alone until Busan Metropolitan City built the pavilion in 1974. The monument is 172㎝ high, 69㎝ wide and 22㎝ thick.